A
True Story of Inspiration, My Grandmother Ruth Lusk




This newspaper article is one of my most prized posessions! I know it's a little hard to read every word of the article but, i'm just lucky I still have it. It is the true account of a tragic event that happened to my Granny, and her first family.

My Granny married a man named Ira who just finished service in WWII. They built a small house in the Tennessee Mountains, and scraped together enough money to furnish it. They were very happy with their lives. Not long after their marriage they had a little girl, Gloria Udean Ward.

When Gloria was around 18 months, Ira was starting a fire the woodstove and the stove exploded. My Granny said he was putting kerosene on hot coals. Granny got Gloria out of the house first thing and went back in to save Ira. Which she was unable to do because, he was beyond saving. When she got back out she realized Gloria had followed her back in. She went back in and got Gloria out again.

My Granny was very, very badly burned, and Gloria had inhaled a lot of smoke. They were taken to a hospital in Virginia where Gloria died that night. My Granny had no reason to live, and had given up. She lost everything in one night. The bodies of Ira and Gloria are both buried together in the same casket in the mountains. And they share a headstone.
Granny did not get to go to their burial because of the extensive surgeries she was undergoing for her burns.

After months of skin-grafting surgeries, the doctors told her not to give up. They had discovered she was pregnant! Granny had no idea she was pregnant with my aunt Johnnie. (Named Johnnie because Ira wanted their next "son" named Johnnie) Now my Granny had something to live for.

Since Johnnie's birth, Granny married my Grandfather, Fred. They had four more children. Boy, 2 girls (one is my mom), and another boy. They had four grandchildren before his death in the early eighties. My Granpa Fred died the day my mom told him she was pregnant with Kelly. Since his death they have had an additional 6 grandchildren and 5 great-grandchildren with another due next year!

Granny is 81 years old now and full of life! She loves to watch Emma for me and loves to travel and see her family. My Granny has never remarried but has lived an extremely full life. She has so much family to love and that love her too!

Whenever I feel bad or I feel like life isn't fair, I think about my Granny. I'm sure she didn't feel like life was fair to her either by taking away everything she ever loved. But just look at the beautiful family given her in return.
I know that the she will always miss her first family and her beautiful baby Gloria and nothing will ever replace that. As you know, everything happens for a reason. We can't figure these things out when they happen but one day you realize why and that brings you peace. I am glad that my Granny has a happy life now and I love her so much!

I hope that reading this story will give you the strength to get through those rough times as it does me.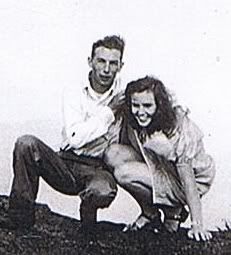 Ruth Ward and Ira Ward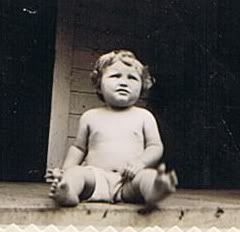 Gloria Udean Ward (around 18 months old).
Ruth Ward and Fred Lusk pictured below (my grandfather)




Ruth Ward Lusk (Granny Boo) Summer of 2006